Greetings to All. Here is a message I offer to the Consciousness of the All of the All. The Infinite Creator of the I AM as we awaken collectively on this Journey of Remembrance.
The drawings I include in my posts are a visual language and can be used as meditation tools to awaken codes of remembrance within us all. "Remembering what?" you may ask. Remembering our journeys in other dimensions, remembering the Vastness from which we emerged into this physical realm as we continue to awaken to full Consciousness.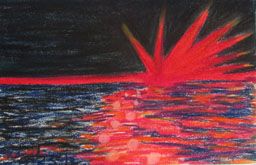 Daily Drawing June 25, 2013
Much of what I wrote in my last post (March) is still happening. In addition to the stillness and re-structuring, the energy is finally beginning to move – as if we were in the lock of a canal, waiting as the energy level s-l-o-w-l-y rose and now we're beginning to flow onward. We are being gifted with a gradual expansion and yet, when we look back to a year or two years ago, many of us will see tremendous change has taken place in our lives.
Creative Inspiration
I am still getting the message to open to receive the energy of renewal and allow it to move through me. I am experiencing wonderful creative expansion through painting and drawing and ideas for working within the context of fiber arts, which is a new exploration for me. This creative play is helping with the integration of the vibrational frequencies of purification that is flowing throughout the Universe. Where is creativity pulsing you in your life? Following some of the promptings of inspiration will bring a playful, fun, lightness of energy to you, as well as opening to new experiences and realms of possibility.
Creativity involves spontaneity and freedom of expression. When we open to the expansiveness by following our intuition and the inner promptings of inspiration, we are allowing ourselves to integrate the high vibrational frequencies. It's a win-win situation as we are listening to our hearts and having fun and filling our energy field with a dynamic current of life force energy. It's very important not to judge the creative promptings we are feeling. If our creativity involves working in our garden or cleaning out a room in order to bring in new furniture, or if we have the urge to bake something or embroider something, or dance, or sing in light language – whatever it is, when we honor it, we receive more pure life force energy and we feel so good! We open to our childlike innocent expression. Doing this helps new growth to sprout up within our lives in all kinds of surprising ways.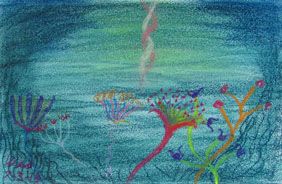 Daily Drawings, July 3, 2013
Endings are Beginnings
All the endings many people are experiencing – relationships, friendships, jobs, etc. are making room for new vistas. I believe we are headed for joy and freedom, so I'm "wearing" that energy – filling myself with it, when I remember to, as well as the feeling of love. We are energy and we are the creators and co-creators of our experience. We are empowered in this time of change to create lives of joy and abundance. We may not know how that will play out, but we can be in the vibration of those feelings anyway.
The Purification Process
I have noticed old feelings – the core of my personal wounding – coming up into my awareness, into my emotional body. "Oh, that again," I think as I am filled with and surrounded by the wounded part of myself. When I go into the old paradigm of analyzing, I find there's no energy in thinking about it – it feels like wheel spinning. The wounded aspect of not quite healed frequencies will continue to rise from deep within like bubbles flowing through our emotional body, giving us the opportunity to feel forgiveness and compassion towards ourselves, so the unhealed energy can keep rising up to pop and disappear. As this process happens, I know all I need to do is allow it to flow upwards and out and if it gets stuck anywhere, it's showing me that I need to sit with the energy and simply feel it.
A caution here: this is when our minds reach out, grab on to the wound and start to talk about it. This is where a daily meditation practice helps. I'm learning to bring my mind into my heart where it can rest in being instead of busy doing and thinking. Being, observing, allowing – all these aspects release tension around the wound, letting go, so that energy can flow into healing.
I recently had the experience of an issue I've been working on coming through in mediation, only this time it felt like something that was completely not mine – it was a voice and negative energy that was clearly coming from something implanted in the collective consciousness. It was like a spike of anger and criticism that, being a human raised in the soup of murky consciousness, I took on as part of myself at a very early age. Having embodied this energy and then coming into consciousness and working on releasing these fear-based feelings and thought forms for years, I finally came to be able to isolate the vibration.
In the meditation, I consciously asserted that this was not my voice or part of my true essence and I reached up and pulled this out of me – like pulling a spike or a root up out of my energetic field and giving it up to Spirit for healing. Woah! That felt good – and I feel lighter and happier and free of this dense vibration. I share this to illustrate what we can all do when those "old" vibrations of fear come to the surface. And when one of us has a healing experience like this, we are offering it up to the entire Collective Consciousness – for this net of negative fear based energy and any beliefs that are attached to it to be released from the beautiful true essence of the Human Consciousness forever. A-HO!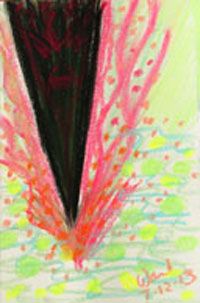 Daily Drawings, July 12, 2013
The Vastness of Being
Recently, I tuned in to communicate with my "big picture" friends The Vastness of Being. Their message carries beautiful frequencies of love and comfort. Here is their message, along with an observation from me that brings in more assistance:
Stand barefoot on the earth
Earthchild, feel the glow
awakening dormant frequencies within you
You are of the earth
All the dimensions of the earth are within you
Turn your face to the sun
Fill your body with the radiance
Feel it flow through you and down
into the center of the Earth
You may be a visitor here
from other dimensions and planetary systems
You may feel a resonant homesickness
for the freedom you knew elsewhere
Remembrance is filtering into you
From Earth and Sun star
You are magnificent
You are Creator
Rise and shine in this world
No matter what is happening in your life
rise and shine the fullness of your being
The Radiance you emit will light your way
And bring to you all you need
and all you don't know you need
All that will open you to your true expression on Earth
and the Oneness you feel with the All of the All moves throughout Creation,
throughout you, your relations with other humans
and through the earth and all the animals, winged ones, minerals, the beings who
dwell in the waters, the reptiles and insects, trees and flowers, the air you breathe,
all of life exists within the biology of the body you inhabit.
It was a traumatic experience to slowly see your power and awareness slip away and fall into dormancy as you began to lose awareness and felt yourselves drift helplessly into the dream. Now is the time of Awakening and it feels unsettling and unfamiliar. Fear is drifting up and clutching at the energy centers of many. Remembrance of your vastness dissipates this and helps you to awaken from the dream.
It is so easy to get sucked down into old feelings of "not good enough" or fear of not being able to survive.
This is simply the purification – clearing away the hypnotic energies of the dream state so that the vastness of the I am (you) can be fully present within your physical experience, expressing joyously in whatever way you want to shine your Light.
A great transformation is taking place throughout the Universe and this is how you are experiencing it here on Earth. Remember all people are part of the All of the All. Human beings are not separate from one another and are all experiencing different nuances in the emotional soup. One over there may be experiencing her vastness and connection to all Life on Earth as surges of energy pulse through humanity. Someone else may be having moments of paralysis as these pulsations move through their wounds bringing forward unhealed aspects of their human experience.
There is a nectar of soothing, loving, compassionate consciousness around all that you are experiencing, lubricating, as it were, your flow into your truth. So when the pain arises within, you can embody that compassion and observe and allow for the integration of deep love to permeate your being. When this happens, the nectar of love flows through the pathways of pain, dissipating the electromagnetic circuits that are still active within your energy field, releasing the constriction of fear so that its tentacles no longer have anything to plug into within your field. We are witnessing the painful process of this and encourage you to practice loving yourselves with compassion in all moments. You will see the pain transform into love.
In your daily meditations, begin with the heart, begin with loving yourselves and then sit within that energy. Watch your mind, it will wander, bring it back home into your heart. This is the practice. You are learning to live authentically. Smile when you feel the smile, be real to yourselves and others. When you are at a loss for words, do not speak. It's ok to be who you are. Self acceptance is the path to Truth.
Be gentle with yourself and follow the energy. Listen to your heart. Do you hear the child's voice within? Your inner voice. Sometimes it comes through as your child voice because when you were a child you were still very close to expressing your true essence. That voice needs to be heard and acknowledged. Listen, pay attention to the promptings of your soul. What is this aspect of yourself calling for? Does it want to play in a particular way? When you listen and act upon this inner calling or longing, you will find the energy within you opening up and flowing into new pathways.
Thank you, Vastness of Being, your words are a great comfort.
Daily Drawing, Growing within the Life Force, June 28, 2013
Peering out Ahead
Expansion and chaos go hand in hand. Remembering our oneness with All that Is, helps us to navigate choppy waters. We are all going through changes and healing as the ground shifts beneath us. So much change is arising in the world as the truth comes out in all areas of existence. We are calling for truth within ourselves and within the way we live on this planet. Truth can no longer be suppressed as Humanity is awakening. The tide has turned and there is no holding back the waves of change.
I feel, as I've said so many times, that having fun and laughing and being with others in playful freedom helps to raise up our energy into love. If we are alone for now, we can hold this energy of togetherness in appreciation – "wearing it" or embodying it. And we can seek it out, if we wish, by participating in events that are in our surroundings, or simply by tuning into and communing with the Earth. We are never truly alone, and as we come into this knowingness, we will draw circumstances of togetherness to us, for we are the Creators.
Thank you for sharing this path with me.
Many Blessings.
To our Divinity,
Nancy Leilah Ward