Greetings!
Two months have gone by and I have been silent, floating in the stillness of the expansion. It's felt like an enforced stillness in some ways because I couldn't have done anything if I tried. Actually, I did try, but my efforts were like trying to push the river.
The intense compression energy at the end of 2012 was like moving through a very narrow passage – a birth canal – and then at the new year we were shot out into a vast lake of stillness. Personally, all I could do was float on my back. This expansion was actually the birthing of our awareness out into the vastness of the Universe – literally into 5th dimensional awareness. It may have felt totally debilitating to some of us, but perhaps that's because we are still in the habitual thought frequencies of needing to DO something. For me, I was resisting the need for stillness and integration and the resistance took me into physical illness, which lasted for two months. My physical body was processing, integrating, releasing over and over again with a cold that would begin to fade and then come back in full force. (I couldn't help but wonder if it was a human-made illness. Was it related to chem trail activities?) It seems so many people have been dealing with illnesses such as colds, flu, pneumonia – "Frankencolds" which remind me of the super-storms we've witnessed. My guides tell me we humans are good at transforming energy, so it's OK. Grrr, I say, because as I write this – completing the final editing on March 19 – I am recovering from a wicked flu that slammed into me a few days ago (which is why this wasn't posted sooner). They tell me it's part of assimilating the higher vibrational energies. Enough already, I say. Oh, OK, I am reminded to be still, this is part of releasing old vibrational patterns. Patience.
Solstice Energies
That has been the message I've been getting since the year began – that the integration of the vibrational frequencies that came through at the Solstice of December required stillness. My restless mind (ego?) has trouble with this because I am sometimes operating on habitual thought forms, which always say that I'm not doing enough or that I should be doing something, and yet I had no motivation. No motivation for creativity, for expression of any kind. And my patient guidance team was telling me to do nothing.
The only thing that I was motivated to do was to teach myself how to knit. I just had to knit, which is interesting because I was never interested in any kind of needlework before. But there were days where that's all I wanted to do. Knitting is very useful for quieting the mind. It is a very peaceful activity. Perhaps some of you reading this have had a similar impulse. I'd love to hear from you, if you have. Whether it's knitting or playing games on facebook or computer solitaire or math problems, or constructing model ships. Many of us may have had the impulse to do some kind of focused activity that engages our mind as we expand into the new vibrational territories.
By February, I was feeling very frustrated with this illness and emptiness and my inability to connect out there with a Vibe Report. At that time someone commented on a Vibe Report that I had written in February of 2009, which was titled "Colds and Flu." There was a lot of wisdom in that report that I could apply to my current circumstance – so it was like a reminder from Home.
And then a few days after that someone commented on the January Vibe Report of 2012, which is also worth re-reading, as it provides a clear assessment of the energies of 2012. I thank these people for taking the time to comment and remind me of teachings that I, myself, can continue to benefit from. [Please see the Archives on my website if you'd like to read these Vibe Reports.]
2012 – Year of Change
Many people's lives are totally different from the way they were a year ago. The year of 2012 was a year of big change for so many. And change often presents itself as loss of some kind. And now we are facing new lives and we may not yet know what our new lives are about. So in the not knowing we are still releasing old stuff, beliefs, memories, energies that are not our truth. We are still flushing out the old and we need to recognize our habitual thinking and doing. We are in totally different territory now. Perhaps it feels surreal as we traverse the pathways of no time and find ourselves able to stay focused in the now.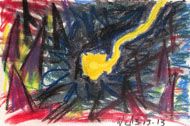 Daily Drawing 3/13/13
Finding My New Path
2013 Year of Integration and Acceleration
Now is a good time to assess or re-asses your gifts. You may start to fall into an old pattern of hopelessness and self hatred (that's extreme – self worthlessness might apply) – it's just an old habit and it isn't your truth. But stuff like that may come up because it's being squeezed out of us. And that's actually good. So when the old pattern appears recognize it for what it is – don't go down that old road – you've been there before and it doesn't take you to a place of beauty or fun. Instead, stop, refocus, tune into the love in your deep heart… and love yourself into the present moment. Doing so literally changes our neural-pathways. So that road that goes down the slippery slope of despair begins to disappear as we choose a path that takes us to higher ground, to the center of our being.
This can be hard at first, because we may be well along the old familiar discomfort before we wake up and realize that we're listening to what is not our truth. Asking our guides for help and setting our intentions to loving ourselves will help us to stay vigilant.
Spiraling energy
At this time the energies are building once again. Things are stirring and there's an increase in solar activity because of the great Divine light that is radiating onto the earth and throughout the entire solar system. Some things are coming together and some things are falling apart. It is time for all of us to know ourselves as infinite beings of Divine Consciousness and connected through time and space in oneness. At one with all that is, all that surrounds us. Separation is dissolving. The spiraling energies are lifting us into Light and this means Conscious Awakening.
Vernal Equinox
Since this year began, March 20th has been highlighted in my inner sight. I see beams of light radiating into our Consciousness. (I'm pushing to get this Vibe Report posted in time!) I'm seeing some kind of great shift coming around the Vernal Equinox. A boost of energy, sending us forward, adding momentum to whatever has been turning and beginning to arise deep within. This will clarify new pathways, bringing inspiration and hope along with great change. Up until now, the concept of oneness with All has been an intellectual thing, it's like we know there's oneness but we have yet to truly experience it. When we do reach that turning point, it will be like a shell cracking open – nothing will ever be as it was and we will experience a different relationship to each other and the earth. We will see that we are the earth and the earth is us.
Sacred Relationship with Earth
I had this experience in meditation recently. I was tuning in to my energetic frequency and was feeling sweetness and innocence and love and then I tuned into the earth and found the same resonance there. She is innocence and love and We, in our purest essence, vibrate at the frequency of the earth. So part of our clearing and loving ourselves is also to connect with and vibrate to our pure essence of innocence and love. When we truly experience this it will change our world profoundly. I tune into this as often as possible and it brings me closer to living the harmonic of One. When we truly experience the Earth as part of ourselves, is when we will arise into true stewards of the Earth and co-create with the Earth for a harmonious, symbiotic existence. I have had the experience of communicating with her and realizing that she would do anything for us. She is our healer, our provider, our sustainer, and we are her healers, providers and sustainers. There is a bond of love there between Humanity and Earth. Below is a vision I had this morning of our link in infinity with Earth.
I know that I am part of all I see and experience. It is in my prayers to have a deep, direct, lasting experience of this. Is this awareness going to come through a cosmic blast of Light? Or is it a matter of practice, vigilance and intention? At this point, for me, it will remain to be practice. And we shall see what the Light brings.
One thing I do know is that us humans are powerful when we work together and dream together. We are receiving the call to come together in community and, as a friend shared with me recently, it feels so much better to feel us all connected to one another as an extended family, instead of in the loneliness of separation.
Infinite Love and Light to All,
Nancy Leilah Ward